6 Tips for Shopping Safely Online This Holiday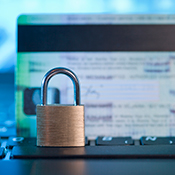 Forget Black Friday and shoppers lined up outside retailers' doors in the early hours to be the first to snag deals. In the age of the coronavirus, holiday shopping this year will be done largely online and begin earlier than usual.
Unfortunately, that means fraudsters will also get an early start in trying to trick you into divulging information so they can steal your money or identity. Protect yourself with these steps:
Always shop direct. Avoid clicking on links in emails or texts to retailer websites or special offers that could instead direct you to bogus sites designed to steal your information. Instead, go directly to retailers' official sites to shop.
Check for security. Make sure the URL begins with "https" or shows a padlock icon next to it that indicates the information shared between you and the site is encrypted.
Never buy using public Wi-Fi. Don't shop online when connected to public Wi-Fi networks, which can allow scammers to intercept your name, address, credit card number, or other information.
Skip the "save payment information" option. Yes, it can be inconvenient to retype your card payment information every time you make a purchase. But some retailer sites have been hacked, giving thieves access to customers' stored information.
Choose credit over debit. With a debit card, funds are immediately withdrawn from your bank account, allowing a thief to empty it. With credit cards, you're borrowing the card issuer's money to make purchases. The consumer protections over how much you can be held liable for fraudulent transactions are stronger with credit cards than debit cards. With credit cards, the most you can be charged is $50 — and most issuers waive that.
Plus, many credit cards offer other perks, such as purchase protection in case your item is lost or damaged or price protection if you find a recent purchase at a lower price elsewhere.
Set up alerts. For protection against unauthorized charges, you can set up alerts in which your bank will notify you of any credit or debit transactions over a certain sum selected by you, say, $50. Also check your bank and credit card statements regularly for unusual charges.
Also, with October being Cyber Security Awareness Month. It's a good reminder for you to take steps to protect your accounts and learn about ICMA-RC's security guarantee. Also, see this video with more tips for safeguarding your accounts.
Please note: The contents of this publication provided by MissionSquare Retirement is general information regarding your retirement benefits. It is not intended to provide you with or substitute for specific legal, tax, or investment advice. You may want to consult with your legal, tax, or investment advisor to review your own personal situation. Some of the products, services, or funds detailed in this publication may not be available in your plan. This document may contain information obtained from outside sources and it may reference external websites. While we believe this information to be reliable, we cannot guarantee its complete accuracy. In addition, rules and laws can change frequently.