America Saves Week: A Focus on Family and Finances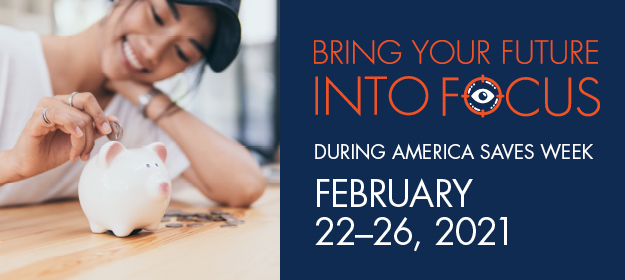 This year, ICMA-RC is celebrating America Saves Week Feb. 22-26, 2021, with a few fun and engaging features, such as this interactive game where you can imagine your future self in retirement, and a way for you to inspire others by sharing your own retirement savings journey.
Also, check out some informative videos from our executives and CERTIFIED FINANCIAL PLANNER™ professionals on:
Market volatility
Cyber security
Savings strategies
Financial planning
Debt management
Learn more about these and additional resources at www.icmarc.org/americasaves.
Of course, saving for important goals like retirement goes far beyond the week. It applies throughout your lifetime. And with Valentine's Day coming soon, we're reminded of the connection between love and money in How Newlyweds Can Find Their Financial Happy Ever After with tips for having the "money talk." For those who may be marrying later in life, there's guidance on designating beneficiaries and more in How Older Newlyweds Can Create Financial Harmony.
Get additional savings tips for your family home in Do You Have Enough Insurance for Your Home?, and find information on available tax breaks for the college student in your family.
Remember to check out Around ICMA-RC for an easy way to sign up for eDelivery of your account statements, ways to connect with us online, our scholarship fund application period, and more.
Take some time during America Saves Week to connect virtually and conveniently with your ICMA-RC Retirement Plans Specialist.
Please note: The contents of this publication provided by MissionSquare Retirement is general information regarding your retirement benefits. It is not intended to provide you with or substitute for specific legal, tax, or investment advice. You may want to consult with your legal, tax, or investment advisor to review your own personal situation. Some of the products, services, or funds detailed in this publication may not be available in your plan. This document may contain information obtained from outside sources and it may reference external websites. While we believe this information to be reliable, we cannot guarantee its complete accuracy. In addition, rules and laws can change frequently.