Do You Have Enough Insurance for Your Home?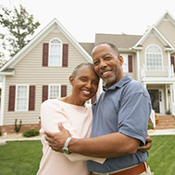 If you haven't reviewed your homeowners insurance in several years, it may no longer provide enough coverage to repair or rebuild your house if a fire or other disaster strikes.
Your policy, for instance, might not have kept up with the rising cost of construction. Or you may have neglected to increase your coverage after a renovation or addition.
How much is enough? The amount of dwelling coverage you need is based on how much it would cost to rebuild your house — not its current market value or the balance on your mortgage. For a ballpark estimate, the Insurance Information Institute recommends multiplying the square footage of your house by the per-square-foot building costs in your area. (You can get construction cost information from a local building association, insurance agent, or Realtor®.)
A standard "replacement cost" policy will pay to rebuild or restore your home, but no more than the amount of your coverage limit. For more protection, consider "extended replacement cost" that typically will pay out 20% or 25% above the policy limit in case local construction and labor costs balloon after a disaster. And "guaranteed replacement cost," which is less commonly offered, will cover the cost to rebuild even if it is more than the policy limit.
What's not covered? Homeowner policies don't cover everything, but you can fill those gaps by adding riders or other insurance. Consider:
Flood damage. Standard homeowners policies don't cover flood damage — a surprise to many homeowners caught in the path of a severe storm. Check the FEMA Flood Map Service Center to see if you are in a high-risk flood area. You can buy a flood policy from the National Flood Insurance Program through a local insurance provider.
"Law or ordinance" upgrades. If you have an older home, adding this coverage to your policy will pay to bring a damaged structure up to current building codes.
Personal belongings and valuables. Possessions often are covered up to 50% or 70% of the insurance limit on the house. But there's a dollar cap on how much insurers will pay if expensive art, jewelry, or collectibles are stolen. You can purchase additional coverage for valuables through an endorsement or floater.
Liability protection. A homeowners policy offers some liability coverage if you are sued over an accident that occurs on your property. But lawsuits are expensive, so most insurers offer a personal liability umbrella policy that provides higher liability coverage of $1 million or more.
Water and sewer damage. An endorsement to your policy will cover damage from water or sewage backing up into your house.
Please note: The contents of this publication provided by MissionSquare Retirement is general information regarding your retirement benefits. It is not intended to provide you with or substitute for specific legal, tax, or investment advice. You may want to consult with your legal, tax, or investment advisor to review your own personal situation. Some of the products, services, or funds detailed in this publication may not be available in your plan. This document may contain information obtained from outside sources and it may reference external websites. While we believe this information to be reliable, we cannot guarantee its complete accuracy. In addition, rules and laws can change frequently.