7 Money-Smart Ways to Use Your Tax Refund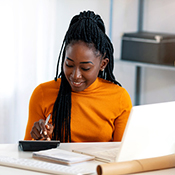 Already have plans for this year's tax refund? About 80% of us do — 41% of taxpayers plan to deposit it in a savings account, and 39% will use it to pay down debt, according to a recent poll by the financial website MagnifyMoney.
If this year's tax season is like last year's, the average refund will be more than $2,500. Here are seven great ways to put your tax refund to work for you:
Replenish your emergency fund or start one. If your emergency savings were drained in the past year, use your tax refund to rebuild them. Or, if you don't have an emergency fund, create one. The usual recommendation is to set aside three to six months' worth of living expenses for unexpected events such as job loss or medical bills.
Boost your retirement savings. If you don't already have one, consider steering your refund into a traditional or Roth IRA. The maximum contribution in 2021 is $6,000, or $7,000 for workers age 50 and over.
Pay down high-interest credit card debt. The average annual percentage rate on credit cards is 16%, according to Bankrate.com. Paying down a card at that rate is like getting a 16% return on your money — better than what you can earn on average in the stock market.
Invest in a future scholar. Contribute to a tax-friendly 529 college savings plan for a young student — or yourself. Money invested in a 529 plan grows sheltered from taxes and can be withdrawn tax-free if used for qualified educational expenses. Many states also allow residents to deduct some or all of their contributions to their home-state plan.
Create your estate plan. Hire a lawyer to prepare key estate documents. These include a will, financial and medical powers of attorney, and a living will that spells out your wishes for end-of-life care.
Give it to charity. Do good and get a tax break. Even individuals who don't file an itemized return can deduct up to $300 in cash donations ($600 for joint filers) made to charities in 2021.
Refurbish your home office. It's likely that after the pandemic, some employees may continue to work from home on occasion. Consider upgrading your home office with an ergonomic chair or keyboard, an adjustable standing desk, a reliable wireless router, or more fun and functional décor.
Please note: The contents of this publication provided by MissionSquare Retirement is general information regarding your retirement benefits. It is not intended to provide you with or substitute for specific legal, tax, or investment advice. You may want to consult with your legal, tax, or investment advisor to review your own personal situation. Some of the products, services, or funds detailed in this publication may not be available in your plan. This document may contain information obtained from outside sources and it may reference external websites. While we believe this information to be reliable, we cannot guarantee its complete accuracy. In addition, rules and laws can change frequently.