Sign Up for a Financial Planning Webinar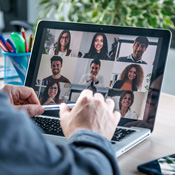 Join MissionSquare Retirement's CERTIFIED FINANCIAL PLANNER™ professionals for educational webinars. From financial planning and investment basics to general savings strategies, there are topics for you.
Please note: The contents of this publication provided by MissionSquare Retirement is general information regarding your retirement benefits. It is not intended to provide you with or substitute for specific legal, tax, or investment advice. You may want to consult with your legal, tax, or investment advisor to review your own personal situation. Some of the products, services, or funds detailed in this publication may not be available in your plan. This document may contain information obtained from outside sources and it may reference external websites. While we believe this information to be reliable, we cannot guarantee its complete accuracy. In addition, rules and laws can change frequently.