Give Yourself a Financial Checkup in the New Year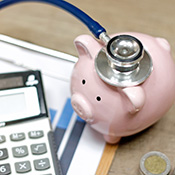 January is usually the month when many of us make ambitious New Year's resolutions. And February is usually when we break them.
To act on your resolutions, begin 2021 with a financial checkup to make sure you're on track to put your finances in better shape by your 2022 checkup. Take these steps:
Calculate your net worth. Add up all your assets and subtract all your liabilities to check financial health. It's a good idea to run the numbers each year to see if you're getting ahead, falling behind, or just treading water. (Your net worth might have taken a hit in 2020. But if the long-term trajectory is upward, you're headed in the right direction.)
Review insurance. Make sure the coverage provided by your auto and homeowners policies still meets your needs. Many consumers stick with the same insurer year after year, but you can save money by re-shopping your insurance annually at renewal time. A Consumer Reports® survey in 2019, for example, found that among the 22% of its members who re-shopped their auto insurance, 62% found a better price.

Insurance comparison websites now make it easy to shop for policies from insurers. Shop for homeowners and auto insurance together because insurers often give discounts if you purchase multiple policies.

Update beneficiaries. Did you get married, divorced, or have children in 2020? If your family situation changed, you may need to update beneficiaries on insurance policies, investment accounts and retirement plans, as well as revise estate planning documents. You can start by logging into your ICMA-RC account to review and, if needed, update your beneficiaries.
Check your credit reports. Get a free copy of your credit report from each of the major credit reporting companies — Equifax®, Experian®, and TransUnion® — at www.AnnualCreditReport.com. Free weekly reports are available through April 2021, after which you're entitled to a free report every 12 months. Look for errors that might damage your credit score. For example, COVID-related relief, such as the suspension of federal student loan payments and mortgage forbearance, are not supposed to leave a negative mark on reports.
Create or rebuild an emergency fund. If you dipped into emergency savings in 2020 after the recession hit, make a plan to replenish the funds. Or establish an emergency fund if you don't have one. While the standard recommendation is to set aside three to six months' worth of living expenses for unexpected costs, you may need nine months' worth or more if your job is less secure or your household income is unpredictable.
For additional strategies, tips, and resources, meet with your ICMA-RC Retirement Plans Specialist.
Please note: The contents of this publication provided by MissionSquare Retirement is general information regarding your retirement benefits. It is not intended to provide you with or substitute for specific legal, tax, or investment advice. You may want to consult with your legal, tax, or investment advisor to review your own personal situation. Some of the products, services, or funds detailed in this publication may not be available in your plan. This document may contain information obtained from outside sources and it may reference external websites. While we believe this information to be reliable, we cannot guarantee its complete accuracy. In addition, rules and laws can change frequently.