Get Familiar with Easy-to-Use Online Tools for Managing Your Account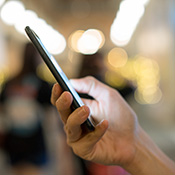 In addition to this monthly e-newsletter, ICMA-RC offers many online tools and resources to help you throughout your savings journey. Set your sights (and fingertips) on these helpful tools by logging into your account:
Account Aggregation — Connect and view all of your finances — ICMA-RC accounts and other financial accounts, including any checking, savings, brokerage, outside retirement accounts, and credit cards — in one location with our Account Aggregation service. Use this tool to establish a budget and goals for your savings journey. Your ICMA-RC retirement account(s) will be automatically populated.
Retirement Readiness Tool — See if you're on track for retirement with ICMA-RC's online Am I On Track tool that provides you with a personalized retirement readiness score and retirement income gap analysis assessment. You also receive a proposed savings rate, retirement age, and investment mix. You can further tailor your score by adding additional personal and financial information, or you can enroll in Fund Advice or Managed Accounts (if offered in your plan) by clicking the Improve Your Score button.
Retirement Education Center — Discover ICMA-RC's Retirement Education Center (no need to log in), a website designed to provide you with useful online calculators, guides, and other resources to help you save and plan for your retirement.
For more details on these and more tools and resources, check out our Digital Resources.
Please note: The contents of this publication provided by MissionSquare Retirement is general information regarding your retirement benefits. It is not intended to provide you with or substitute for specific legal, tax, or investment advice. You may want to consult with your legal, tax, or investment advisor to review your own personal situation. Some of the products, services, or funds detailed in this publication may not be available in your plan. This document may contain information obtained from outside sources and it may reference external websites. While we believe this information to be reliable, we cannot guarantee its complete accuracy. In addition, rules and laws can change frequently.