4 Tips for Buying a House in a Hot Real Estate Market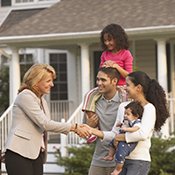 The hot housing market shows no signs yet of cooling off, which creates obstacles for those wanting to buy their first home or move.
High demand, low supply, and rising prices are pushing some first-time homebuyers out of the market, according to the National Association of Realtors (NAR). The median price of an existing home in November 2021 was $353,900, up about 13.9% from a year earlier, per NAR.
Even in this competitive market, savvy home shoppers can still become homebuyers. It just takes some advance planning, flexibility, and quick action. Here are some tips to navigate today's hot market:
Check your credit. Are there errors, delinquent bills, or is there other negative information on your credit report that may hurt your chances of getting a mortgage at a good rate? Can your credit score use a boost?

If you answered yes, use the time before applying for a mortgage to correct inaccuracies, get current on bills, or take other steps to improve your credit. Paying down credit card balances, for example, can give your credit score a quick lift.
Obtain preapproval for a mortgage. You'll need to fill out a mortgage application. If a review of your finances checks out, the lender will provide a letter saying it would be willing to give you a mortgage up to a certain limit. This preapproval is typically good for 90 days.

The letter doesn't guarantee a mortgage, but it shows sellers that a lender has reviewed your finances and given you a preliminary thumbs up.
Be flexible. In a sellers' market, buyers aren't in a position to make many demands, such as insisting the seller wait until your home sells before you buy. You can make your bid more attractive by waiving contingencies or being flexible with the closing date to give the seller more time to move out.

One contingency to think twice about is dispensing with full-fledged home inspections, a move that can put buyers at risk if problems arise later. If you waive an inspection, protect yourself by paying for a "pre-offer inspection." An inspector looks over the property during a showing to spot any red flags before you bid on the house.
Set your price limit. Bidding wars are common, and during the heat of the battle, it's possible you might go over your housing budget. To stay competitive and within your price range, consider adding an escalation clause to your offer. This allows your offer to automatically increase by a set sum if a competing buyer outbids you. You can place a cap on how high your final bid will go.
Please note: The contents of this publication provided by MissionSquare Retirement is general information regarding your retirement benefits. It is not intended to provide you with or substitute for specific legal, tax, or investment advice. You may want to consult with your legal, tax, or investment advisor to review your own personal situation. Some of the products, services, or funds detailed in this publication may not be available in your plan. This document may contain information obtained from outside sources and it may reference external websites. While we believe this information to be reliable, we cannot guarantee its complete accuracy. In addition, rules and laws can change frequently.