What You Should Know Before Agreeing to Be an Executor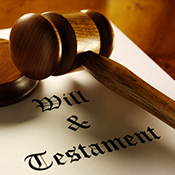 A relative asks you to be the executor of her will. You may be inclined to agree, honored that you're being trusted to carry out someone's last wishes.
But before saying 'yes,' make sure you understand what the job entails. Sorting out financial issues can last months or years depending on the complexity of the estate. As an executor, you'll have a fiduciary duty to act in the best interests of the beneficiaries — and could be sued if you mishandle the estate. And you could get caught up in family disputes, especially if children inherit unequal amounts.
If you still want the job, here are some of the key duties. You don't need to be a legal or financial expert to carry them out, although being well-organized is essential.
File the will. After your relative dies, you must file the original will with the probate court or register of wills in the jurisdiction of residence within days or a few months, depending on state rules. This step begins the probate process and approves your appointment as executor.
Take an inventory. You'll need to locate and account for all of the deceased's assets and liabilities. This job is far easier if your relative had compiled a list of accounts and other assets — along with passwords to access them — as well as contact information for key professionals they worked with, such as their lawyer or accountant.
You must also safeguard the deceased's property and maintain investments until they are later distributed to heirs.
Pay off debts. You'll be responsible for paying outstanding debts and bills, such as credit cards and funeral expenses, from estate proceeds.
Distribute assets. After creditors are paid and you've filed the deceased's final tax returns, you can disburse assets based on the will's instructions. (Some assets, say, IRAs or life insurance, will be distributed to the beneficiary named on the account or policy.)
Get help. You can hire professionals to assist you, such as a lawyer or tax preparer, who will be paid out of the estate. You, too, are entitled to compensation based on the terms in the will or under state law.
What if you agree to be an executor and change your mind later? You can decline the job — even after the person dies. A back-up executor named in the will can replace you. Or, if no alternative was named, the court will appoint someone.
Get more guidance about building an effective estate plan with ICMA-RC's Estate Planning for Everyone.
Please note: The contents of this publication provided by MissionSquare Retirement is general information regarding your retirement benefits. It is not intended to provide you with or substitute for specific legal, tax, or investment advice. You may want to consult with your legal, tax, or investment advisor to review your own personal situation. Some of the products, services, or funds detailed in this publication may not be available in your plan. This document may contain information obtained from outside sources and it may reference external websites. While we believe this information to be reliable, we cannot guarantee its complete accuracy. In addition, rules and laws can change frequently.