View Your Statement in Account Access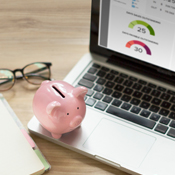 You can access your statements online by setting up your online access or logging in to your account at www.icmarc.org/login. Due to the coronavirus (COVID-19) pandemic, quarterly participant account statements delivered by mail may be delayed by a few days. In this current environment, mail delivery from many organizations may be affected.
Instead of waiting for mail delivery of your account statements from ICMA-RC, you can quickly and easily access them within Account Access:
Is your account already set up? If so, simply log in to your account and locate your statement by selecting Statement and Confirms from the drop-down menu next to your plan of choice.
Want to sign up for e-delivery of your statement and other financial documents? While logged in to your account, sign up for e-delivery of your statements and financial documents. Select the Messages & Alerts menu, then scroll down and click Statements and Documents.
Not signed up to log in to your account, yet? Wait no more. Set up your account now by visiting www.icmarc.org/login and selecting Set Up Your Online Access.
Learn more about account set up and e-delivery. For more information from ICMA-RC on COVID-19's impact on the financial markets, visit our Resource Center.
Please note: The contents of this publication provided by MissionSquare Retirement is general information regarding your retirement benefits. It is not intended to provide you with or substitute for specific legal, tax, or investment advice. You may want to consult with your legal, tax, or investment advisor to review your own personal situation. Some of the products, services, or funds detailed in this publication may not be available in your plan. This document may contain information obtained from outside sources and it may reference external websites. While we believe this information to be reliable, we cannot guarantee its complete accuracy. In addition, rules and laws can change frequently.