How Much Life Insurance Do You Need?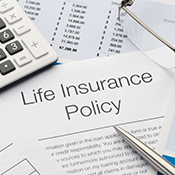 The coronavirus pandemic has been a catalyst for life insurance, a need that people often ignore or underestimate. But once they decide they need it, the next decision is how much.
One rule of thumb is you'll need seven to 10 times your annual income. While this provides a ballpark estimate, two people with the same salary may have far different insurance needs. For instance, a couple with a big mortgage and three small children will need more insurance than empty nesters with no debt and healthy retirement savings.
Insurance calculators, such as the one at lifehappens.org, can help get you closer to the right number. But the most accurate figure may be the one in which you do the math yourself. Here's how to calculate it:
Add up expenses and debts. Start with your final expenses, which can run into thousands of dollars. For example, the median cost is $9,135 for a burial and $5,150 for a cremation, according to the National Funeral Directors Association.
Next, add up your liabilities. These include your mortgage, credit card balances, car payments, student loans or other debts.
Then, estimate future expenses. A major one is college for the kids that can run into the six-figure range. For instance, the College Board reports that tuition, fees, room and board for the 2019-2020 academic year averaged $10,440 at four-year, in-state public schools and $36,880 at private institutions.
Figure income replacement needs. Once your debts and the kids' college expenses are covered, you may not need insurance to replace your full annual salary. Consider how much of your yearly income your family will require and multiply that by the number of years needed, say, up until your anticipated retirement.
Subtract assets. After you've added up debts, expenses, and income replacement needs, subtract any current college funds, savings accounts or other life insurance you may have to get the answer of how much life insurance you will need.
You may want to finetune the number. You might need less, for example, if your spouse has a sizable income or more if you want to fund your partner's retirement.
Please note: The contents of this publication provided by MissionSquare Retirement is general information regarding your retirement benefits. It is not intended to provide you with or substitute for specific legal, tax, or investment advice. You may want to consult with your legal, tax, or investment advisor to review your own personal situation. Some of the products, services, or funds detailed in this publication may not be available in your plan. This document may contain information obtained from outside sources and it may reference external websites. While we believe this information to be reliable, we cannot guarantee its complete accuracy. In addition, rules and laws can change frequently.